Happy International Women's Day!
For more than a hundred years, 8th of March has been acknowledged as a special day for women, a day which has tapped on important issues affecting women globally.
Nowadays, at the core of the International Women's Day are women's rights.
At Needen, we want to celebrate this special day and embrace women's empowerment. Therefore, this year we have created a special campaign to emphasize the importance of women's diversity. We believe that every woman is unique in her own way and deserves to feel worthy and beautiful, because real beauty comes from strength, courage and dignity, not from physical appearance only.
Our Women's Day ambassadors: 
Ashlee Braxton, Judith Calvete, Sana Yumii, Olesia Stefanova, Tatiana Filonenko
The message: embracing diversity
Our idea for Women's Day campaign involved a photoshoot which isn't just a casual photo session but a project with a true story behind, that aims to inspire and send a positive message to the world. We want to embrace the image of diversity through its beauty and strength, while praising humanity's distinctness and its integrity.
Diversity is an important topic, especially in the fashion industry that often fails to pamper for its whole consumer demographic. In fact, the strict standards of beauty in recent decades have profoundly influenced the type of photographs and models which fashion companies feature to promote their merchandise. The deficit of diversity in fashion has contributed to many women and teenagers perceiving their physique and beauty as not being worthy while comparing themselves with ideal images in media that advertise unrealistic standards of beauty.
For our photoshoot we invited 5 women with different ethnic backgrounds and different types of beauty, unique and stunning on their own way. Our project therefore, aims to inspire an emotional response among women, to celebrate diversity and emphasise humanity of each woman individually but also as a united society that provides a better world for our families, but also empower strength and courage.
Our Ambassadors
Each of our ambassadors participated with strong support in this concept and desire to raise awareness about women's diversity concept. We really appreciate their input and on this special day, we'd love to share some meaningful words from each of them:
"Love yourself against all odds. You are capable of anything " -Ashlee
"Independence, courage and strength; without being afraid of anyone or anything, believe in yourself. 
Follow the dreams no matter how far they are and make them come true. Because if you really want to achieve something, you can do it." – Sana
"Self love is revolutionary" -Judith
"Choose yourself first and be brave to follow your dreams!" – Tatiana
"Self-acceptance is key to becoming one of those strong women you admire
Self-respect also helps me make better life decisions and it's easier to stand up for myself." -Olesia
The colours
The colours used for the photoshoot have their special meaning as well.
At Needen we strongly embrace colours, therefore the palette of shades used for our campaign corresponds to the tones associated with the International Women's Day: the purple, green and white. Through the variety of colours we want to celebrate the diversity in this world.
"Purple symbolizes justice and dignity.
Green represents hope.
White signifies purity, albeit a controversial concept."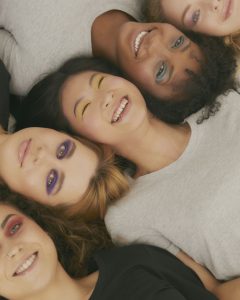 At Needen, we believe that every day is Women's Day and that's why showing respect and support uniqueness in every way must be a daily fact to take into consideration. This is the main point to highlight in each of our photoshoots because difference is what makes true beauty.
Especially today, we would love to inspire you to make International Women's Day an exceptional day. We encourage you to be revolutionary by being your own self.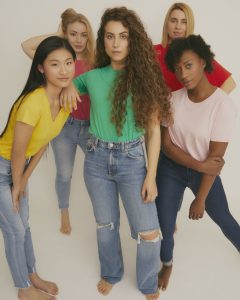 The colourful t-shirts worn by our ambassadors are available at Needen. Wear them and communicate your own story through them! Follow us and tell us what empowers you as a woman on our Instagram page @weareneeden.